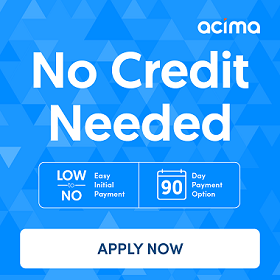 Buy What You Need Today with No Credit Needed
That's right—there's no credit needed to be eligible for up to $5,000 with Acima Financing, an alternative solution to traditional financing for qualifying applicants. Approvals are instant, and a 90-Day Payment Option is available.
With tailored payment plans and a quick application process, Acima Financing offers an affordable way for qualifying musicians to make their purchases.
What Do I Need to Qualify?
You need the following to qualify for Acima Financing:
US government-issued photo ID and SS# or ITIN#
Three-month history with current employer or income source
Deposits totaling at least $1,000 per month into a checking account that has been open for 90 days or more
No NSFs, excessive overdrafts, or negative balances on current checking account
Use Acima Financing with The Guitar Factory to get the gear you need today!
How Does It Work?
Click the link to apply for financing. When approved, give us a call at 716-677-0908 or TOLL FREE at 1-800-863-4347. Our sales representatives will be glad to handle your financed purchase!